DECCAN ODYSSEY - "Early Bird Offer"
We are pleased to announce an "Early Bird Offer" on Deccan Odyssey for the next season of 2016 – 17 journeys.
" Book a 7 night journey and pay for 6 nights Only"
Additionally a 60 minutes SPA therapy complimentary for a couple on board the Deccan Odyssey
Itinerary
from
to
2016
2017
Maharashtra Splendour
7N/8D
Mumbai
Mumbai
1st Oct, 5th Nov, 26th
Nov, 24th Dec, 31st
Dec
21st Jan, 11th Feb,
25th Feb, 18th Mar,
15th Apr, 29th Apr,
23rd Sept
Hidden Treasures of Gujarat
7N/8D
Mumbai
Mumbai
08th Oct, 29th Oct, 3rd
Dec
04th Mar, 25th Mar
Indian Odyssey 7N/8D
New Delhi
Mumbai
22nd Oct, 19th Nov,
17th Dec
14th Jan, 04th Feb,
08th Apr
Indian Sojourn 7N/8D
Mumbai
New Delhi
15th Oct, 12th Nov,
10th Dec
07th Jan, 28th Jan, 1st
Apr
Jewels of the Deccan 7N/8D
Mumbai
Mumbai
18th Feb, 11th Mar,
22nd Apr
Maharashtra Wild trail 7N/8D
Mumbai
Mumbai
6th May , 13th May
Validity:-
This will be applicable for our next season i,e bookings made for the period of October 2016 – September 2017
This will be valid for FIT bookings with client names only i.e maximum 6 persons on any given departure.
This offer will be valid for all bookings made by 30th April 2016 for the forthcoming season of Oct 2016 – Sep 2017
We look forward to creating unforgettable memories for your guests on board the Deccan Odyssey
Please Fill Your Details & Our Train Specialist Will Get Back To You With Tour Details & Special Offers.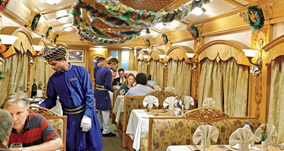 © The Luxury Trains (P) Ltd. 2016 - All Rights Reserved.